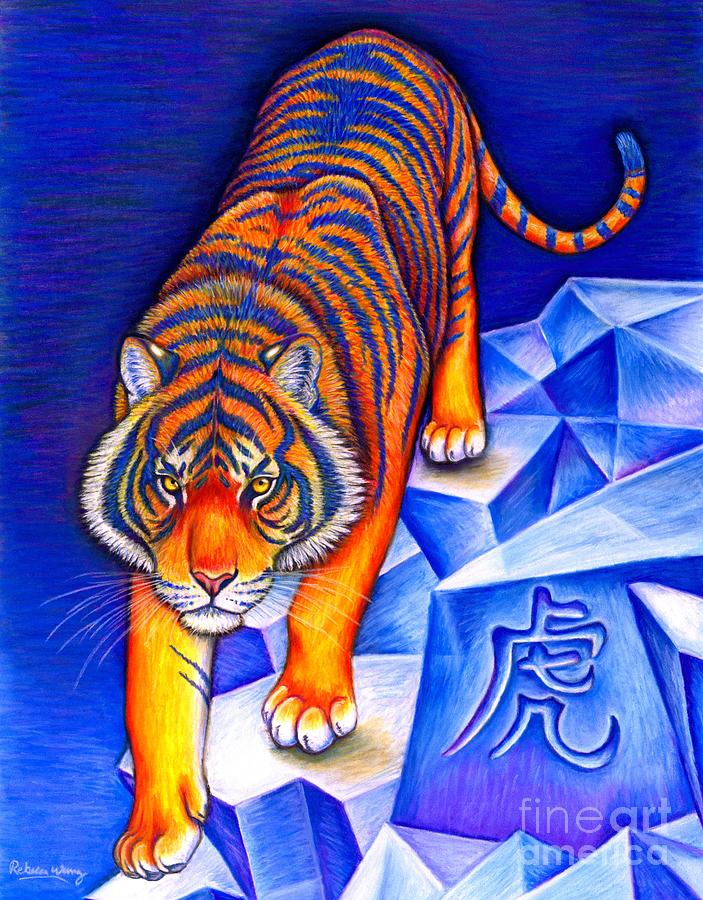 Title
Chinese Zodiac - Year of the Tiger
Medium
Drawing - Pastel Pencils
Description
Chinese Zodiac - Year of the Tiger, the third animal in the zodiac. Drawn with pastel pencils on pastelmat.

Information on the Tiger in the Chinese Zodiac

The Tiger is associated with the following years in the Chinese Zodiac: 1926, 1938, 1950, 1962, 1974, 1986, 1998, 2010, and 2022. The next Year of the Tiger will be 2034. Those born in the Year of the tiger are said to be brave, independent, self-confident, and well-liked by others. Their best matches are with someone born in the years of the dog or horse. They should avoid someone in the year of the monkey.

Their lucky elements are as follows: flower is the cineraria; colors are gray, white, blue, purple and orange; numbers are 1, 3, and 4; and direction is Southeast, east and south. Their associated element is wood. Their energy is Yang.

Many people are aware of the zodiac years, but not many know that the Chinese zodiac animals also have corresponding months, days and even hours. The animals assigned to a month is the inner animal, the day is the true animal, and the hour is the hidden animal.

Tigers rule the first lunar month, which corresponds to February 4th to March 5th in the solar calendar. Their season is Spring. Their day is Saturday. The hour of the tiger is from 03:00 – 04:59 (3:00 AM to 4:59 AM).

*************************************
Artwork Copyright © Rebecca Wang, https://www.psychedeliczen.com, All Rights Reserved.
Uploaded
October 25th, 2017
Statistics
Viewed 11,581 Times - Last Visitor from Beverly Hills, CA on 11/29/2023 at 5:21 AM