August 22nd, 2020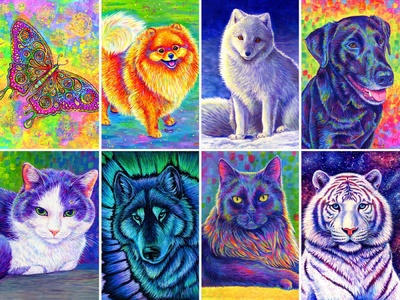 I keep a handy list on my computer calendar, which lists all the animal social media "holidays", such as national days, international days, world days, awareness days, and appreciation days.  I thought I would share it with you.  This list can be used for any year, as most days are set.  Some are listed as a particular day of the week (World Pangolin Day, for example, is the third Saturday of February).  I have not found a website yet that has all of the animal days listed in one place, so I compiled a list combining all of them in one place. This list includes wildlife and endangered species, as well as pets like cats and dogs.

The animal holidays are divided into sections by month.  I do not have animal weeks or animal months listed here; I may add them in the future. Each animal holiday has a link to a website with more information about the day and the animal, if one exists. If I am missing any, please Contact Me and let me know!

January
National Bird Day  – January 5
International Zebra Day  – January 31

February
World Ostrich Day  – February 2
International Golden Retriever Day - February 3
World Bonobo Day – February 14
National Hippo Day – February 15
World Whale Day – February 15
National / International Polar Bear Day – February 27
World Pangolin Day – Third Saturday of February

March
National Horse Protection Day – March 1
National Pig Day – March 1
World Wildlife Day – March 3
Buzzard Day – March 15
National Panda Day – March 16
World Sparrow Day – March 20
World Frog Day – March 20
International Day of the Seal – March 22
World Bear Day – March 23
National Puppy Day - March 23

April
National Ferret Day – April 2
World Aquatic Animal Day – April 3
World Rat Day – April 4
International Beaver Day – April 7
National Pet Day - April 11
National Dolphin Day – April 14
International Bat Appreciation Day – April 17
Tortoiseshell Cat Appreciation Day – April 17
World Penguin Day – April 25
World Tapir Day – April 27
International Hyena Day – April 27

May
World Tuna Day – May 2
International Leopard Day – May 3
International Wild Koala Day – May 3
World Donkey Day – May 8
World Bee Day – May 20
World Turtle Day – May 23
World Otter Day – May 27
World Parrot Day – May 31

June
National Black Bear Day - First Saturday in June
World Oceans Day – June 8
World Jaguar Day - June 11
National Cougar Day – June 12
World Sea Turtles Day – June 16
World Crocodile Day – June 17
World Giraffe Day – June 21
World Camel Day - June 22

July
National Kitten Day - July 10
Shark Awareness Day – July 14
World Chimpanzee Day – July 14
World Orca Day – July 14
International Tiger Day – July 29

August
International Clouded Leopard Day – August 4
World/International Cat Day – August 08
World Lion Day - August 10
World Elephant Day – August 12
World Hirola Day - August 12
International Wolf Day – August 13
National Honeybee Day – Third Saturday of August
National Black Cat Appreciation Day - August 17
World Orangutan Day – August 19
World African Wild Dog Day – August 26
National Dog Day - August 26
International Whale Shark Day – August 30

September
Ginger Cat Appreciation Day - September 1
National Wildlife Day – September 4
National Hummingbird Day – First Saturday in September
World Vulture Day – September 5
National Iguana Awareness Day – September 8
International Red Panda Day – Third Saturday of September
National Fox Day - September 17
World Rhino Day – September 22
World Gorilla Day – September 24
World Cassowary Day – September 26
International Rabbit Day – Fourth Saturday or Sunday in September

October
National Black Dog Day - October 1
World Farm Animal Day – October 2
World Animal Day – October 4
World Badger Day – October 6, 2020
National Salmon Day – October 8
World Okapi Day – October 18
International Sloth Day – October 20
National Reptile Awareness Day – October 21
International Wombat Day – October 22
International Snow Leopard Day – October 23
Freshwater Dolphin Day – October 24
International Gibbon Day – October 24
National Mule Day – October 26
World Lemur Day – Last Friday of October

November
National Bison Day – November 7
National Black Cat Day - November 17
International Jaguar Day – November 29

December
International Cheetah Day – December 4
World Wildlife Conservation Day – December 4
National Day of Animal Rights – December 10
National Day of the Horse – December 13
Sources for Animal Holidays:
Wikipedia List of Environmental Dates
What Is My Spirit Animal
Holidays and Observances
August 22nd, 2020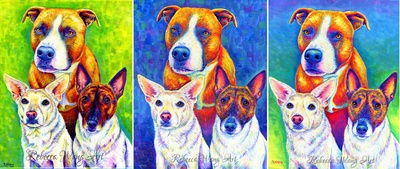 I recently had the unique opportunity to create three almost identical paintings for the same client.  She wanted them to be mostly the same except for the backgrounds.  This provided an opportunity for me to showcase how choosing background colors and color schemes can affect the mood and feel of a painting.

This painting is a three dog pet portrait that was created with acrylic paints on 16" wide x 20" tall stretched canvas. The original was the one with the green background, on the left.  The second was the one with the dark blue and purple background.  The third painting has a background that is a gradient of purple, blue, green, and yellow.  Each portrait was created by hand using acrylic paints on canvas, these are not digital manipulations!

Except for the background colors, these are essentially the same painting (besides some improvement on technique). This gives a unique illustration into how the background colors that are chosen can affect the mood and energy of the painting.  The bright green and yellow one has a vibrant and energetic energy.  However, the colors of the dogs do not stand out as well, since they are similar in tone (lightness vs darkness) to the background.  The dark blue one has a peaceful, almost somber mood.  However, the light and bright colors of the dogs stand out really well, and almost "pop" out from the dark background. The orange of the pitbull contrasts really well with the dark blue, taking advantage of complimentary colors in the color theory. The gradient background has a nice blend of both of these, creating a lively background while the dogs still "pop", and the multi-color background seems to enhance the colors of the dogs, even though i used the same color palette on both.

It is interesting to note that I tend to use cool colors (blue, green, purple) in the backgrounds of my paintings. There are a couple of reasons for this.  One has to do with the base colors of the dog.  If the dog is warm colored (various shades of brown, tan, etc), the color choices I make for the fur tend to be warm colors (red, orange, yellow, magenta).  These warm colors contrast best with a cool colored background.  For dogs that are white, black, or gray, I tend to use a lot of cool colors, with splashes of warm colors as highlights.  For these, I tend to keep my background lighter and more warmer (yellows).

Another reason for using cool colors for the background is an interesting property of colors, where warm colors seem to "advance", or come forward, where cool colors seem to "recede".  The bright orange pitbull definitely pops out against a blue background.

October 31st, 2018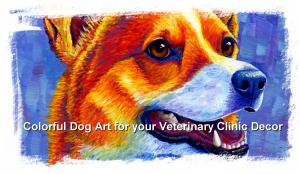 Looking for unique decor for your veterinary clinic or hospital?  My original and unique dog art paintings as stretched canvas wall art would be ideal decor for dog lovers and those who appreciate colorful contemporary animal artwork.  These colorful and vibrant stretched canvas dog portraits are perfect for veterinary clinic decor!  They would complement any hospital color scheme, and look great anywhere on your clinic walls.  Bring a splash of color to your veterinary clinic's waiting room, reception area, office, exam rooms, and treatment areas.  There are many popular breeds to choose from, and more are being added all the time.  The energetic and expressive dog portraits will be sure to bring a smile to your clients and staff.

These stretched canvas fine art prints come in a variety of sizes to match any room size or budget.  They are available as small as 6 x 8 inches, and as large as 46 x 60 inches.  They have the option for a glossy or matte finish.  The bright bold colors look best in a glossy finish, which also makes the canvas more durable in a veterinary setting, as it is easier to keep clean.  There are also four wrap options, which is what goes on the sides of the canvas.  My colorful dog art looks best wither with a mirrored gallery wrap, or a black gallery wrap.